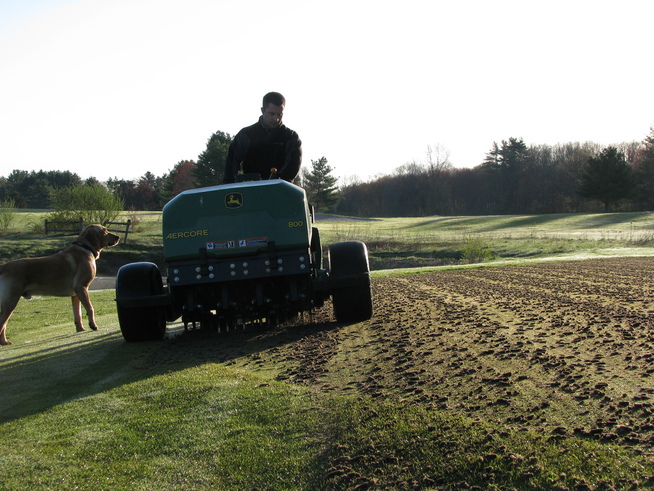 I graduated from the University of Rhode Island with a Bachelor's degree in Turfgrass Management in 2006. In November 2005, I was hired as an assistant at Oakley Country Club located in Watertown, MA. My stay there was short, and after only 14 months, I left and went to Scotts LawnCare in Southborough, MA. Working at Scotts LawnCare taught me a lot about customer service and account management. I also helped train new employees to complete pesticide certification. It was a different part of the turf industry that taught me a new set of skills. I feel it helped me develop my communication and people skills much faster than if I stayed on a golf course. After 5 months with Scotts, I was contacted by the superintendent at Stow Acres. He needed an assistant for the South course and I immediately agreed. My future at Stow Acres began in the Spring season of 2007.

Working as an assistant at Stow, I was immediately introduced to the daily role. Irrigation trouble shooting, main line breaks, and personnel management became some of my key responsibilities. By the end of that season, I had a very good handle on my role, but in December 2007 that role would quickly change. The superintendent told us he was moving onto another company. Just like any hungry and determined assistant, I applied for the position. After a very serious interview process, I was named Superintendent in March 2008.

My professional growth in the turf industry has certainly been on the fast track. My original goal was to become a superintendent before I was 30. After officially completing 10 seasons as a Superintendent, I feel very secure managing multiple golf courses and people. I feel that I am well versed in many aspects of golf course management such as personnel, budget/resource, irrigation/water, pesticide, fertilizer, equipment, safety, and data tracking. I used technology to efficiently maintain the property both on and off the golf course. In 2016, my passion for technology became so strong, I launched a new business venture. Turf Cloud, Inc. became my full time job. In February 2018, Turf Cloud was acquired by GreenSight. The brand stayed intact, but the ownership changed! I thoroughly enjoy building, assisting, and educating turf grass professionals on how technology can benefit their career and their operation. My passion to grow the turf industry has allowed me to write articles for various trade publications, join the University of Rhode Island internship committee, present on the educational platform at the national level, and serve on the Board of Directors of the Golf Course Superintendents Association of New England.

​​Thank you for taking the time to read through my portfolio.​​ I'm looking forward to meeting you!